Site of the Week: Doomed Moviethon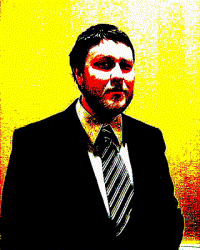 If too much of a good thing can be bad, then it's only logical that too much of a bad thing can be really awesome. Richard Schmidt can testify to that — the site Doomed Moviethon is his way of documenting epic movie binges that challenge him as a fan, as a reviewer and as a mad scientist. (What is the effect of watching 13 Dario Argento films in 34 hours on the human brain?) Schmidt dedicates his site to "the bleary-eyed, the caffeine-fueled, and the ridiculously under-slept movie marathon," inspiring us to hold our own private film festivals — or at the very least, to live vicariously through his.
The site began three years ago as a collection of his cult movie reviews, and could have peaked there; with hundreds of entries now bleeding into several genres such as spaghetti westerns, yakuza, kung fu and Eurocrime, Doomed Moviethon covers a lot of ground.
His first movie marathon, 18 Fulci films in 2 days,
was meant to be a one-off, but the side-effects of exploring a
director's work all at once lingered. "I see the world differently,"
Schmidt says. "For instance, after Argentophobia,
colors were brighter and more vibrant and everything around me seemed
sinister. All I could think of doing was to watch more Argento flicks."
The physical and mental toll are undeniable: "It's awful but amazing.
Even though I've eliminated alcohol (I don't want to pass out!), energy
drinks, and fast food from the moviethon regimen, I still wake up with
a filmic hangover."
The blow-by-blow reviews generated by these trials are pretty
compelling, like bulletins from a war zone, as Schmidt describes
falling deeper and deeper into some pretty strange worlds. He doesn't
cherry-pick the selections for maximum enjoyment, either; some
moviethons are administered as a tonic, like his upcoming
Werewolfiethon. "I must watch these films to repair the rift between
werewolves and myself," he admits. "They have always been my least
favorite beast and that just cannot continue." Also in the works: An
Asian horror fest, and a collection of films all made in 1976 to
celebrate his birthday- – excluding obvious picks like Carrie or The Omen, of course.
Doomed Moviethon's blog lets
you know what Schmidt's watching between insomniac binges, but the
marathon coverage is where he shines. "I hope that folks who are
interested in horror and cult movies will use my site as a springboard
for their own moviethons, or for finding that obscure title that has
been scratching away at the back of their mind for years," Schmidt
explains, "Everybody's got to get their nerd on and I want to
facilitate that as much as possible."
Read More