Seeking Some of Indy's Spotlight, Carrie Fisher Recalls Her Fling With Harrison Ford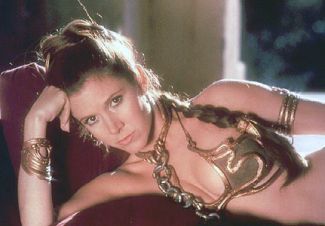 OMG! Did you hear the latest gossip? Carrie Fisher totally confessed to sort of, maybe, possibly getting it on with Harrison Ford while filming Star Wars!
With the media onslaught for Kingdom of the Crystal Skull gearing up, Carrie Fisher jumped on the Ford bandwagon, so to speak, and spilled some 30-plus year-old secrets to a British TV show.
"[Fisher] tells Justin Lee Collins in the new C4 show Bring Back . . . Star Wars: "I went on the film saying 'I'm going to have an affair', like it was a kiwi, an exotic fruit — because I'd never had one!"
(Really? Not even on Shampoo ? Come on, Beatty must've slept with everyone on that one. Not even the craft service lady was safe.)
Fisher also recalled an encounter with Ford where she entered a room
to find him, "in the closet, not wearing a lot of clothes." (Well,
maybe he was in the middle of putting on his Han Solo costume!)
Fisher went on to confess a crush on Ford, and added that he's, "great
fun when he's had a few drinks."
She also picked at the
scab that is Mark Hamill's bruised ego saying, "Harrison had this
enormous career by the second or third film, that was tough for Mark.
He was like, 'This wasn't supposed to happen — it's the adventures of
Luke Skywalker.'"
Still, it's comforting to know that Fisher is still out there repping the dark, seedy underbelly of Star Wars.
After all, it was Fisher's widely publicized battles with drug
addiction and mental illness that provided the only controversy for a
squeaky-clean film made at the height of one of Hollywood's most
notoriously debauched decades. (A fact made abundantly clear by Peter
Biskind in his '70s film biography, Easy Riders, Raging Bulls,
which basically credits gee-whiz kids Lucas and Spielberg for
effectively putting a nail in the coffin of the "sex-drugs-and-rock 'n
roll" filmmaker generation.)
But memo to Carrie: Can you please stop talking about how Lucas
taped down your front? I don't know what's creepier– his "no underwear
in space" policy, or the fact that you're still going on about it
three decades later.
Read More