Sarah Connor Chronicles Will Be Back on Fox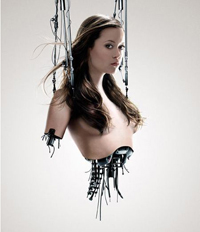 A few days ago, we told you about the changing face of Sarah Connor, and how the character influenced almost every strong female scifi character after her. Well, at least one Sarah Connor won't be going anywhere for the time being, as Fox has announced that The Sarah Connor Chronicles will be returning for a second season.
Though the renewal hasn't officially been confirmed, Fox has said they are happy enough with the ratings for the time traveling exploits of the Connor family (and their plucky robot companion) to keep them going for another year.
And what of the cinematic exploits of everybody's favorite killing machine? The fourth film, currently titled Terminator Salvation: The Future Begins, is in the final stages of adding a new cast-member already familiar with time travel: Journeyman's
Moon Bloodgood. She'll join the human resistance as the female lead, a
no-nonsense, battle-hardened fighter. I assume that's in stark contrast
to the rest of the resistance, who are all nonsense.
With the movie running full steam, and the TV show coming back, it's a good time to be a Terminator fan.
Read More