R2D2 Illness Is Harbinger of Star Wars Plague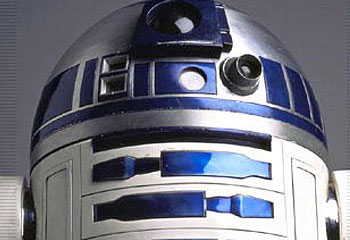 Before the dark times of Darth Weinstein, there was a little movie called Fanboys about a group of friends back in 1998 set on stealing a copy of has been taken ill and hospitalized . At times like these it's common to feel helpless. But if Star Wars is the best medicine, then why is the franchise currently plagued by bad luck.
Tale the First: Barney Jones of Holyhead, Wales holds the distinction of founding the British Jedi Church. The self-described "Jedi Master Jonba Hehol" was filming a television interview in his backyard last week when a man wearing a garbage bag as a cape and a Darth Vader helmet assaulted him. Said Master Hehol, "This wasn't a joke. This was serious."
Tale the Second: It seems that while most writers write what they know, for George Lucas it's the exact opposite. While his fanboy minions battle in a Jedi church far, far away, the intergalactic scribe finds himself embroiled in trade negotiations of his own over the rights re: his stormtroopers. Apparently their designer, Andrew Ainsworth, has been selling unlicensed replicas of the suits, thereby stealing food right out of Lucas' jowls. A $20 million lawsuit should fatten him up again nicely.
Tale the Third: Have you got what it takes to be a Jedi? New York Jedi, the martial arts academy that combines stage combat with lightsaber technique, is willing to train you. But be warned: The training is brutal, and only the strongest survive. Just ask Internet comedian Dave Hill, who this week accepted the challenge. Sometimes, even laughter hurts.
Read More