Prostitution in the Wild West and the Soiled Doves of Hang 'Em High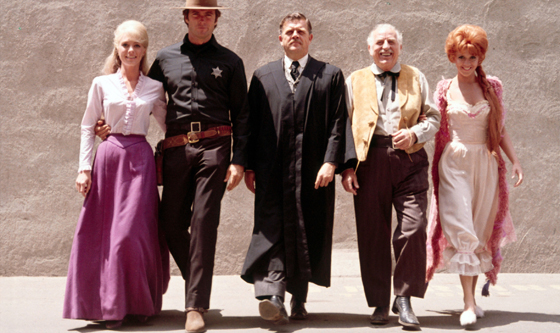 No Western would be complete without a brothel. The one in Hang 'Em High , is said to have been inspired by Miss Laura's Social Club in Fort Smith, Arkansas, which now functions, ironically, as the town's welcome center. When it opened in 1904, the Mayor was on hand to celebrate, and any man willing to pay $3 could spend some time in this handsome hotel with a high class hooker. But what did people really think about this booming business in their frontier town? Wild West Historian, Sherry Monahan answers our questions about the world's oldest profession.
Q: Was it legal?
A: In most cities, if you were a prostitute or you were running a house of ill fame, you had to have a license with the city to run it. It wasn't illegal, but the city wanted to make sure they got their take.
Q: Were these women more respected than they are today?
A: There was a law put on the books in Tombstone where the women
asked the city council to please make sure that the "soiled doves," as
they called them, would not come within certain limits. They actually
marked off certain streets that prostitutes were not allowed to enter because the women didn't want to be in the company of someone less than their
stature.
Q: What was the uniform of the day?
A: They may not
have had fancy dresses from France, but they didn't dare show anything
other than their ankles or a low bust line. They weren't running around
in their underwear — not even in the Wild West.
Q: What about men using their services? Could what happened to Eliot Spitzer happen to Hang 'Em High's Judge Fenton?
A:
You didn't flaunt it. You tried to be discreet. If someone was caught
with a prostitute well, you know, he might have a lot of explaining to
do to his wife because he's just shamed her publicly. But would the
public want him out of office? If he's keeping the laws and making the
town popular by bringing business in and trade in, you're probably
going to go, "So what." People were very protective about their
community, especially if you're a small town trying to make a name for
yourself or trying to be respectable.
Q: How involved was the federal government?
Before
they became states, you had a Territorial Governor who may have had
four states in one territory. He would have aides and people running
those towns, but as long as they weren't causing major problems —
if you're not hanging people from the trees just for the heck of hanging
people — everything is going well.
At one point, Fort Smith had 66 saloons and seven
brothels on "Bordello Row." Prostitution was outlawed in 1924; Miss
Laura's closed in 1948.
See what happens when Clint Eastwood's character, Marshall Jed Cooper, pays a visit to one such establishment in Hang 'Em High. It's on tonight, Sunday, April 13 @ 7:30PM | 6:30C. For a complete schedule, click here .
Read More