Prom Night Review: Not Much of a Party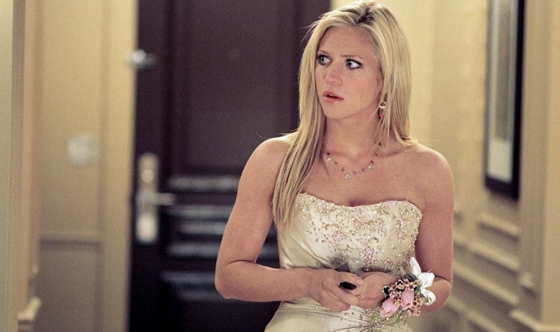 Prom Night Review: Not Much of a Party" width="560″/>

Not quite a genre classic, the original Prom Night (1980) did possess a high camp quotient, the presence of scream queen Jamie Lee Curtis, and some deliciously awful, waning-days-of-disco fashions. Today, with the prom industry at My Super Sweet 16 levels of garishness, the time is ripe for a remake chock full of old-school gore and timeless T&A. So let's hurry over to Bridgeport High where Donna Keppel (Brittany Snow) just wants to get through her Senior Prom without having flashbacks of that night when her crazed science teacher (Johnathon Schaech) murdered her entire family. Keeping her mind on lighter matters, Donna and her friends are preparing for their big night all the while trading barbs with the school's requisite "mean girl" cheerleader, who's inexplicably paid for the school's lavish festivities at a local hotel.
There's a comforting familiarity to what follows: Donna's
stock friends (the hopeful prom queen, the jock-dating dimwit, etc.)
are picked off one by one by the knife-wielding maniac who of course
has escaped despite the watchful eye of a local police detective (The Wire's Idris Elba). And in an unintentional nod to Scream or The Terminator (who knows?), they all seem to die right after uttering the immortal words, "I'll be right back." To its credit, Prom Night's
minimal onscreen carnage is a refreshing change of pace in an age
glutted by torture porn. But J.S. Cardone's script lacks the wit of Shaun of the Dead , the complicated motivations of Misery , or even the mask a la Halloween .
(Schaech's disguise is pretty much a baseball cap. Let's face it, it's
hard to take a psycho killer seriously when he looks like a poor man's
James Marsden.)
Part of the problem with Prom Night lies in its PG-13
rating: How can you make a movie about the biggest night of a
teenager's life without showing even a hint of debauchery? (Donna and
her squeaky clean friends can't even fulfill the old "sex equals death"
horror movie maxim.) But if you are going to make a PG-13 horror flick,
you better at least have some compelling leads and a twisty plot. Prom Night
doesn't even try to mimic the surprise ending of the original, instead
climaxing in a fairly dull face-off between Donna and her stalker.
Producer Neal Moritz is clearly aiming for old-school horror along the
lines of his I Know What You Did Last Summer franchise, but those films at least featured a creepy villain with a hook for a hand.
Director Nelson McCormick — making his feature debut after cutting his teeth on TV shows like Prison Break and Nip/Tuck
— pulls out some seriously creaky horror tropes: Everything from the
killer's reflection in the bathroom mirror bit to the chase scene
through a conveniently under-construction wing of the hotel. McCormick
also spends too much time on his absurdly attractive cast of teens
dancing in ignorance. The sub-plot about Donna's tough decision as to
whether to attend Brown on full scholarship or go to a local school to
stay close to her boyfriend left me wondering: Did the creative team
behind this project choose the latter themselves years ago?
Read More