Photographs Let Stars Wars Characters Step Into Our World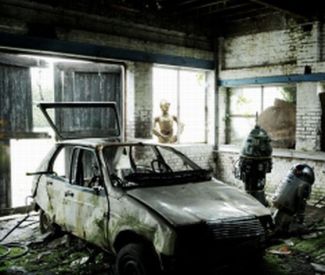 There is something haunting, and oddly beautiful, about French photographer Cedric Delsaux's images of Star Wars characters in seedy urban settings. Maybe its the way that Boba Fett, caught in the headlights of a vintage automobile, looks as if he's about to commit a Mob hit. Or the way Jabba's mass seems almost diminished when set against a vast, decrepit warehouse. Whatever it is, there's no denying the stark beauty of a sleek Stormtrooper framed next to a twinkling cityscape. Delsaux's photos lend Star Wars a lyricism it hasn't achieved on its own in decades.
One of the most striking and melancholy photographs features two
members of the Emperor's Royal Guard looking out over a rooftop on an
overcast day. Maybe they're guarding something, maybe they're
contemplating the miniscule role they play in the vast and oppressive
Empire. Either way, it's a moody and gorgeous image. (You can see more
of Cedric Delsaux's photographs at his Flash-heavy website.)
Also fun (though a bit more photoshop-y and fannish) is the website If Star Wars Was Real which places the Wars crew in famous historical events. Who knew that Battle Droids once served under General Pancho Villa?
Read More