Pathology Review: Only Alyssa Milano Believes Things Will Work Out for the Best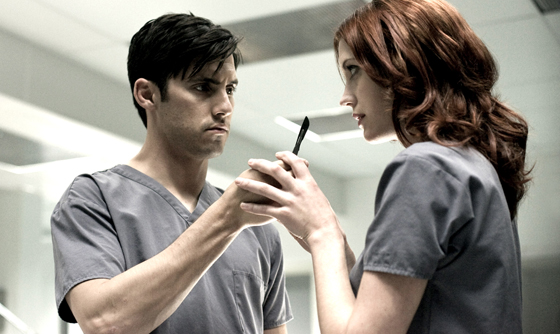 Pathology Review: Only Alyssa Milano Believes Things Will Work Out for the Best" width="560″/>

It's House
meets The Hills. Its Dexter mixed with 90210. No matter how hard
you try to spin Pathology, the
diagnosis is the same: It's not looking good.

Dr. Ted Grey (Milo Ventimiglia) is a handsome
young doctor who recently graduated at the top of his class at Harvard Medical School. After spending
time working with patients in Africa, he joins the prestigious pathology
program at the Metropolitan University Medical Center. Since Dr. Grey's
reputation as the best and the brightest precedes him, he is immediately harassed by the in-house hotshot pathologists, led by the hyper-aggressive
Dr. Jake Gallo (Michael Weston).
It's a lab that feels more locker room than classroom. Lectures around the corpses are filled with bad jokes,
bullying, sex talk, and a competitiveness that is distracting. After a brief period of hazing, which may have been a day, several
days, or even a week — it's difficult to tell how much time has passed at any
point in Pathology — Grey is
invited to join the cool clique for a night on the town. That's when the antagonistic Gallo asks Grey, "If
you could kill anyone and get away with it, who would you kill?" Grey answers, "Anyone." Now the question is who to kill and how to hide it.
It's a "friendly" competition
of life and death, in which one doctor murders and the others
must decipher the cause. If that isn't preposterous enough for you: These medical professionals
smoke
crack together and make out while diagnosing each other's kills. With neither detectives investigating the crime wave nor faculty alarmed by fatality rates, this story flatlines pretty early on.
Predictably,
the Game's participants get so caught up in
winning that they end up literally slaughtering the competition. Relationships are
questioned, interactions grow aggressive, it's clear
no one is going to win, although Alyssa Milano's
gives a satisfying performance as Grey's fiancee who believes things will
work out for the best. Without serious scares, shocks, or memorable moments, Pathology is best buried without an investigation.
Read More