Paintings Capture Superheroes at Their Most Lonely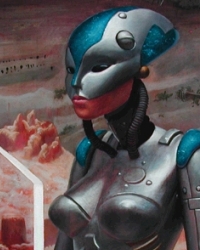 Everyone knows superheroes have feelings too, but few artists outside the comic book world have paid attention to them the way John Jacobson has. His collection, Superhero Lonely, singles out sci-fi B-movie and TV characters from the fifties and sixties, illuminating their solitude and search for their humanity. Many of the paintings speak to the viewer — literally — Jacobson has included elements of American Sign Language into their gestures.
While some are entertaining as mere sight-gags (a tastefully nude Spock is hard not to giggle at), many of these paintings are quite moving. The sight of the Invisible Woman adrift in her isolation inspires awed sympathy, and the Wolf Man's desperate attempt to communicate during the throes of his transformation is powerful to behold. It's hard to pin down what Jacobson feels for his subjects, but whatever it is, his work's made it contagious.
Read More