New on DVD: Day of the Dead 2, P2 and The Cellar Door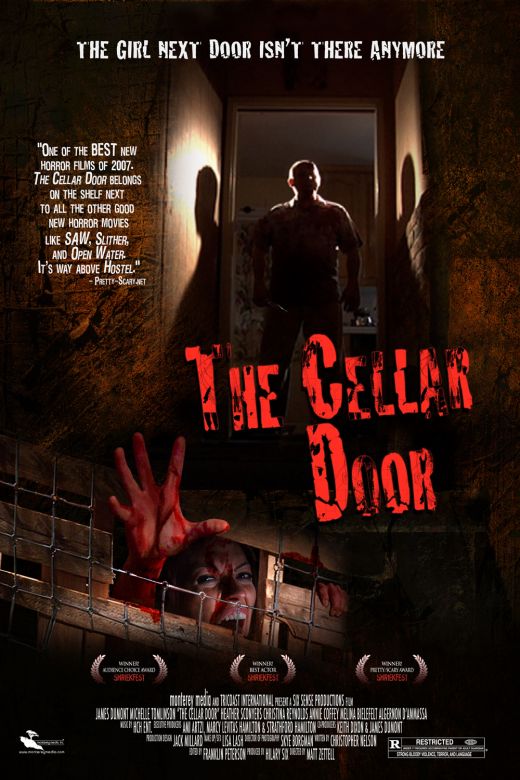 Did George Romero's films enter the public domain while I wasn't looking? Could I have been working on my own souped-up sequelette all this time? I could probably be on my third draft of Late-Afternoon of the Dead: 2 Fast 2 Furious by now. Suffice to say, misgivings about allowing Day of the Dead 2: The Need to Feed, going straight to DVD this week, are probably washing over Romero in clammy waves. A remake in the loosest sense of the world, Need To Feed bends the rules of his zombie mythos well past the breaking point; hopefully someone will at least find zombies crawling across the ceiling socially relevant somehow. Enterprises like this are a career low-point for everyone involved — except maybe Ving Rhames, who always seems to be having a ball no matter what movie he finds himself in.
Whether you enjoy The Cellar Door
will depend on your attitude toward the "torture pornography" that
everyone is so quick to disown these days (which still somehow rakes in
millions). By all accounts though, this latest entry has a little more
gravitas than your average Saw wannabe, with predator and
prey cultivating a surprisingly nuanced relationship amidst of all the
derivative misogynistic violence. Beware, Saw-makers! Your
premise has become so formulaic that any sharp indie crew with a couple
of good actors can move in on your turf and do you one better!
That's where Franck Khalfoun tried to land with his exquisite Haute Tension followup, P2, in which psychotic (and criminally underemployed) Wes Bentley and pretty
young thing Rachel Nichols square off in an empty parking garage on
Christmas Eve. P2 didn't really find its audience in theaters
last fall, but it's certainly worthy of a second look. "Sometimes a
hoary old cliche can come bubbling back to life if handled in a
respectful and direct manner," said critic Bill Gibron of PopMatters, "and this describes P2 perfectly." The fact that this can't be said about the Day of the Dead remake tells you everything you need to know about it.
Read More