Meet Today's Speed Racers – The Rocket Racing League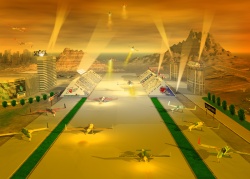 Great news for people that like things fast and futuristic: Speed Racer hits theaters May 9 and the Rocket Racing League announced their first public exhibition race will be this August. The new sports league, which combines racing and rocket engines, could become our version of car racing on Cosmopolis.
Established by X-Prize founder Dr. Peter Diamandis (said to live by the motto, "The best way to predict the future is to create it yourself!") and two-time Indianapolis 500 champion team partner, Granger Whitelaw, the new sport will have racers competing on a whole other level. The cartoonish picture to the right shows the league's concept for a possible venue with some of their X-Racer vehicles. If the exhibition races scheduled this fall go well, it's only a matter of time before we're looking up to see a new kind of NASCAR.
According to their website, racing will involve:
"…10 Rocket Racers going head to head in a 4-lap,
multiple elimination heat format on a 5-mile "Formula One"-like closed
circuit raceway in the sky. The Rocket Racer pilots see the "raceway in
the sky" via in-panel and 3D helmet displays. For the hundreds of
thousands of fans in attendance, they will witness the racing action
live and in real-time display on multiple large projection screens."
The first generation X-Racer will be able to go 320mph which means the plane could keep pace with the Mach 5 (Speed Racer designer Owen Paterson puts the T180's speed
at around 300mph). They haven't managed to match the Mach's ability to
run on a non-polluting, battery powered engine but they are using
alternative fuel sources. One Rocket Racer engine uses kerosene and
another is alcohol-fueled.
Individual planes have yet to be named (see suggestions here), but it's not too early to pick your favorite team. Beyond Gravity sounds promising. Go Rocket Racer!
Rocket Racers on the Rise [MSNBC]
Read More