Lucasfilm Unveils New Products, Lacks Indy Cred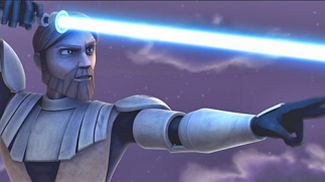 Perhaps the biggest news to come out of the Lucasfilm panel at the NY Comic Con was the lack of a new trailer for Indiana Jones and the Kingdom of the Crystal Skull.
Sure, its not like the film needs the hard sell (and the lack of major spoilers is refreshing), but with a month still to go until opening weekend, fans are getting pretty rabid for anything Indy. What the audience at Comic Con was treated to, however, was a presentation by Lucasfilm Director of Content Management and Head of Fan Relations (that's some title), Steve Sansweet, on all of the many exciting products that they can spend their money on over the next few months. Trailers and extensive behind-the-scenes videos were shown for two Lucasarts video games, Star Wars: The Force Unleashed and Lego Indiana Jones: The Original Adventures. Both games look cool, but the footage shown was nothing new. Sansweet also plugged the upcoming DVD box set for the third volume of the Young Indiana Jones TV series and, naturally, the DVD re-releases of the original Indy trilogy complete with hours of new bonus features. (Also a large, fancy coffee table book from Random House detailing the complete history of Indiana Jones.)
And then there was Clone Wars. Nearly half of the panel was devoted to footage from Star Wars: The Clone Wars
(much of it already online) as well as a pretaped interview with the
director and executive producer of the upcoming film and TV series. The
creative team behind Clone Wars repeatedly stressed how
involved George Lucas was with the production, saying he initially only
planned to check in with the team a couple of times a year, but ended
up working alongside them on a weekly basis.
The most entertaining moments of the panel came from Robot Chicken creators Seth Green and Matt Senreich, who geeked out over working with Lucas on Robot Chicken: Star Wars.
(Also available soon on DVD, natch.) The enthusiasm and candor the duo
displayed almost made up for the fact that the audience had just sat
through an hourlong infomercial for Lucasfilm with nary a single crack
from Indy's trusty whip.
Read More