Lemony Snicket Director Sticks with Costumed Creatures for Land of the Lost Remake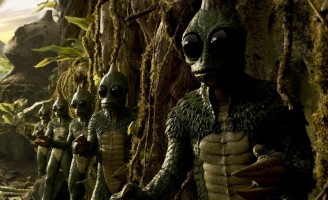 Prepare for a bold new vision… of the past. Land of the Lost's highly anticipated movie adaptation may give the whole series a face-lift, but the creepy Sleestaks will remain surprisingly intact, as you can see in this image from USA Today.
By opting to show a familiar, if unlovable, face from the show's heyday, instead of a bunch of cheap, sleek CGI uglies, director Brad Silberling ( Lemony Snicket ) shows he really does have his finger on fans' pulses. "There is a sense of humor that I loved from the original show that can only come from an actor trying to negotiate the suit," he said. "If it became CG, they'd be too perfect. For the Sleestak to remain in people's memories, it tells you that it was about who was in the suit."
Perhaps a film-sized budget will make for an enhanced Sleestak presence; on the original Land of the Lost, only three creature costumes were made, which put dire limitations on the show's portrayal of Sleestak culture.
Read More