Kooky Items Inspired by Star Wars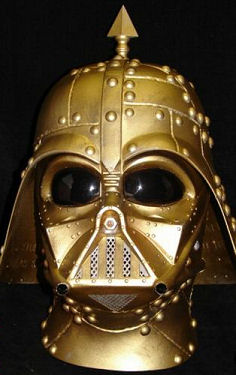 It's been a busy week for Star Wars -inspired items around the web…
• Steampunk fans will want to hurry over to eBay where they can bid on this Steampunk
Darth Vader Mask. This homemade
beauty began life as a regular Darth Vader mask purchased as a gift at Disney World. After fourteen years of sitting on a shelf
collecting nerd-dust, it was finally put to good use.Only to have the guy sell it off. There's gratitude for you.
•
The crafty Star Wars fan will want to
look into this collection of knitted
Amigurumi Star Wars dolls. I suspect these are about twice as creepy as
they look in picture. Seriously,
only the art of knitting can ruin the childhood image of perfection that is
Princess Leia in a metal bikini. What's
next? A macramé Wilma Deering? A crocheted Batgirl?
•
Bibliophile Star Wars fans will
definitely want to check out these Clone
Trooper bookmarks, perfect for, well, marking your place in a book. It's not rocket science, people.
•
Even Star Wars fan have to eat. You
could do worse than what one bride and groom did: Bake a
Star Wars wedding cake that displays the Battle of Hoth. Even here the AT-AT walker is face down. I'm sure the Imperial forces would be pleased
to know that their transports are just as effective at standing upright as if
they were made of sugar.
Read More