The Social Controversy Behind All Three King Kongs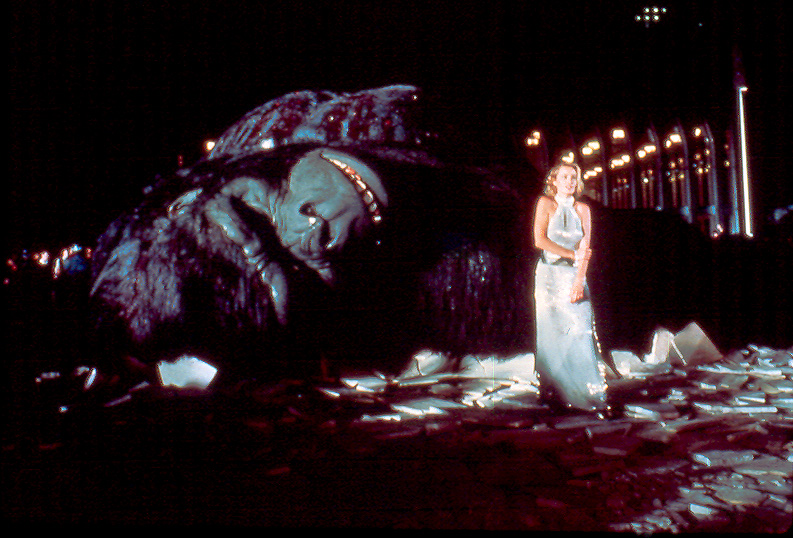 In the first and last King Kong, the basic story changes very little. A giant ape is discovered on an uncharted isle and brought back to New York City. Mayhem ensues! There's a screaming blonde, a tribe of sacrifice-happy primitives, and an expedition leader who reveals himself to be pretty lousy at leading expeditions. But while those two King Kongs are similar, producer Dino De Laurentiis' version is not.
In the 1976 King Kong, the female lead (Jessica Lange in her big screen debut) is quite literally rescued — from a floating raft, the sole survivor of a yacht explosion. This time, the boatload of adventurers is seeking oil, not an exciting cinematic location. For an American audience that had just gone through the energy crisis of the early 1970s finding new sources of fossil fuel would have seemed a noble quest.
Regardless of their release dates, all three versions were criticized as thinly veiled racist narratives: an untamed, powerful black ape lusting after a white woman. In her 1996 book Attack of the Leading Ladies, Rhona Berenstein posits that the 1933 film reflects a kind of miscegenation panic, which was also evident in real-life events like the 1931 rape trial of the Scottsboro Boys. Dr. Kwame McKenzie, writing in the London
Times, sees evidence of the same tendencies in the most recent Kong, although he also
notes approvingly that Kong and Darrow's relationship has been de-lusted, and now resembles that of a girl and her very large pet.
The cover of the April issue of Vogue shows
LeBron James, mouth agape, hanging on to blonde, filmily-clad Gisele Bundchen. Several critics called it "racially insensitive," and Jezebel.com compared the magazine cover to some similar images, both Kong and Kong-esque.
Watch one King Kong (1976) tonight at 8PM | 7C. Click here for the complete schedule.
Read More