The Real Life Trials of The Karate Kid's Pat Morita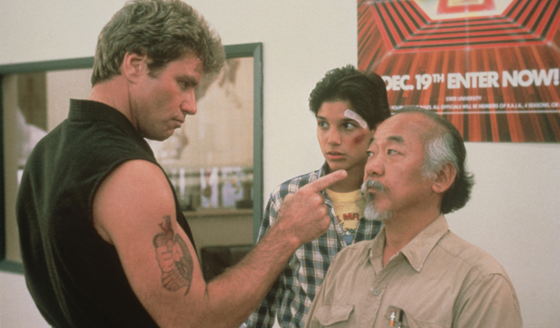 Pat
Morita has the distinction of being the only Asian-American to garner
an Oscar nomination in an acting category — for The Karate Kid . Sure,
other actors of Asian descent have been nominated and even won,
including the guy who beat Morita for Best Supporting Actor: Haing S. Ngor ( The Killing Fields ). But Morita — also famous for his role on Happy Days — was the only one born in the United
States…even if his roles often dictated he affect an Asian-type accent or broken English.
Morita's place
in the annals of Academy Awards history is especially appropriate because
he and Mr. Miyagi, his Karate Kid alter ego, were both victims of a dark episode in WWII history, the internment of
almost 120,000 people of Japanese descent — most of them U.S. citizens — following Pearl Harbor.
As a child, Morita and his family were sent to Manzanar, the most well-known of the camps. In an interview with the AP, he recalled, "I was public enemy No. 1 being escorted to an internment camp by an FBI agent wearing a piece." In 1976, he revisited the location when he starred in Farewell to Manzanar , a TV movie based on a best-selling memoir set in the camps.
For a complete schedule of The Karate Kid on AMC, click here.
To share your review of this movie, click here.
Read More