Jason Reitman Turned Down Justice League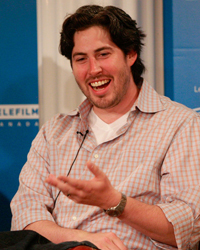 Add another item to everyone's favorite Hollywood guessing game, "What might have been." This time, the subject of the game is a movie that hasn't even started filming yet.
Earlier this morning, Juno director Jason Reitman went on Howard Stern's radio show, and revealed he was offered the director's chair for the upcoming, live action Justice League movie, Justice League Mortal. Though he ultimately turned down the opportunity, it wasn't for the reason you're thinking (the script was bad). Said Reitman:
"What am I going to do with Justice League of America? So basically I'll make a movie that is not as good as X-Men , then I'll be the guy who made a movie not as good as X-Men."
… So we can either take away from this that Reitman thinks the first X-Men movie is the best movie ever, or Justice League is not quite as good as X-Men. Either way, Reitman turned down the movie.
Justice League has run into its fair share of rather public trouble in the past few months. Though Happy Feet's
George Miller has been set as director, the production has had to
uproot from Australia to Vancouver, has constantly changed its title,
and features a virtual cast of unknowns. In particular, the current
cinematic Batman, Christian Bale, has refused to cape up for the movie,
and even Superman Returns' Brandon Routh is not once again donning the big red S.
Would the movie have run into as much trouble, or be as universally
derided (at least on the Internet) if Reitman was at the helm? Would
Reitman, who so far has directed two indie comedies, even have had the
chops to take on a potential franchise starter? And would Batman, at
any point, called Superman "homeskillet?" We'll never know, but it's
certainly fun to guess.
[Via SlashFilm]
Read More