Is the New Grand Theft Auto IV a Work of Dystopian Fiction?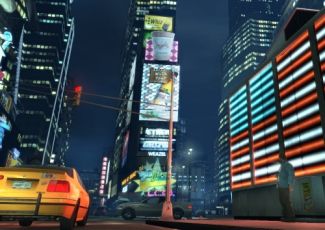 In their glowing review of Grand Theft Auto IV, The New York Times refers to the game's Liberty City setting as, "an exhilarating, lusciously dystopian rendition of New York City." The game, out today, is already being credited for both the downfall of society and the potential downturn in opening weekend box office receipts for Iron Man. But could Grand Theft Auto IV, with its alternate universe take on New York City, also be considered a work of speculative fiction?
Certainly the plot line of GTA IV, and its revenge-seeking protagonist Niko Bellic, is rooted firmly in the world of crime. But the atmosphere and setting created by game writer Dan Houser and his design team are reminiscent of the sprawling urban metropolises found in dystopian classics like Escape from New York .
Houser sees New York through the same heightened lens that fellow Brit, Ridley Scott, used to view the Los Angeles of Blade Runner
— they both celebrate the flash and glamour of their respective
cities, while also paying close attention to the decay underneath.
Also, the bubbling cultural melting pot of Liberty City, with its broad
satire of commercialism and cultural stereotypes, isn't that far
removed from the worlds of Demolition Man or Southland Tales . (There is even a reliance on black market culture similar to 1984 and A Scanner Darkly.)
Perhaps for the next Grand Theft Auto installment, Houser and
Co. can head off criticisms by diving head first into scifi. After all,
parents and watch-dog groups are less likely to be squeamish about all
the car-jackings and drive-bys if said crimes take place in flying
automobiles.
Read More