Uncategorized
Q&A: Anne Dudek (Francine Hanson)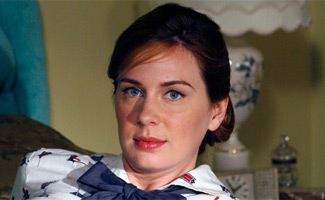 She's Betty's best friend. So what if she chain smokes while pregnant? Actor Anne Dudek gets inside the mind of Mad Men's neighbor with an edge.
Q: How weird was it to be playing a character that is smoking and drinking while she's visibly pregnant?
A: Super weird. I've grown up thinking that's the worst thing you could ever do. Playing the scene is not that weird because to Francine, she's not doing anything wrong at all. She's not knowingly harming her little fetus. That's the thing people comment to me most about my character. They laugh really hard, and they'll say, "Oh, that's so terrible!" They find it funny and sickening, and they really want to talk about it. That also speaks to people's wistful attitude. If only we could do things like that and they wouldn't have a negative effect on us. If only people could drink and smoke, and nothing bad happened. How horrible and sad and funny that it did happen and that people could ever live not knowing that.
Q: 2007 was quite a year for you: Mad Men, House, and Big Love. How did you manage to juggle all three?
A: The toughest part was over the summer, when I was finishing the season of Mad Men, and then I got the role on House because they thankfully made it work. Toward the end, I'd have days where I'd be shooting House from 11 a.m. on a Thursday until 1 a.m. that night, and then I had a call at Mad Men at 5 a.m. on Friday and shot until 2 p.m., and then go back to House and shoot until 3 a.m. So many times I've been in LA as an out-of-work actor, bored out of my mind. Now I'll be driving to work at 5 a.m., laughing. I guess this is what I wanted!

Q: You've done quite a bit of work for television. Have you worked with any members of the Mad Men cast before?
A: Lesli Glatter directed an episode of Mad Men and then came in to direct an episode of House. And she didn't recognize me at all. She was like, "You're not nine months pregnant!" It's a stark realization of that era and what a great job they did costuming and with hair and makeup that I could be completely unrecognizable out in another world.

Q: What did you do to celebrate when the show won a Golden Globe award?
A: I semi-on-purpose wasn't paying attention to the Golden Globes because there was no award show and also the writers were striking and I felt in solidarity. So I didn't find out until the next day, and I was completely blown away. This show is incredibly special and wonderful and 100 percent deserves this award, but I don't expect things like that to happen. Maybe I'm a pessimist? The idea that the new kid on the block would win was so super exciting to me. Like a Cinderella story.
Read More