Incredible Shrinking Man Remake Sinks to New Lows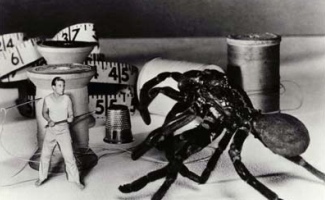 Reading movie news is a lot like watching the weather channel during hurricane season. Sometimes threats spring up overnight, but often you can see dangerous elements combining a long way off, which gives you enough time to evacuate if necessary.
The newest pressure-system brewing offshore is the remake of 1957's The Incredible Shrinking Man. Hollywood Insider has catalogued the following warning signs:
• Eddie Murphy will star.
• Thomas Lennon and Ben Garant (Herbie: Fully Loaded, Taxi, Balls of Fury, Night at the Museum, The Pacifier and Let's Go to Prison) will write the screenplay.
•Brett Ratner will direct.
Even though there is nothing we can do but watch as this storm
advances in slow motion, there is still plenty of time to enjoy the
original before it becomes just a footnote on the Eddie Murphy
version's "special features" menu.
Read More