Horror Surfer: Splice Finds a Home, Saw-inspired Fan Fiction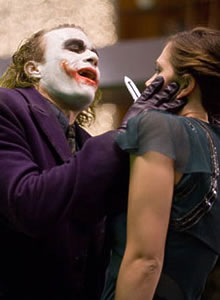 • Variety says that Splice, the scifi horror movie about the illegal creation of new species, will be distributed by Senator Entertainment. Finally, someone bought this thing.
• Kotaku has a gross but unusual photo inspired by the upcoming Dead Space game. It's an edible cake topped by a very real-looking severed head. But is the head edible?
• First there was the viral marketing. Now there's the teaser site for Sony's Quarantine. You can join the conspiracy by signing up for email alerts.
• The Joker is up to a bit of viral marketing. Take a trip.
• Shock Till You Drop feels it has uncovered possible evidence that the C.H.U.D. remake will actually be called Urban Decay. Get ready for more ugly-eyed nadir dwellers.
• Nine pages of links to gruesome fan fiction inspired by the Saw series. With all that fiction, you're sure to find one you like.
Read More