Horror Surfer: Date Set for Mother of Tears; Is The Mist the Most Depressing Film Ever?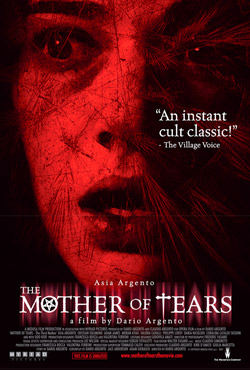 • Mark your calendars. Dario Argento's Mother of Tears will be released on June 6 by the Weinstein Company. Who is the evil Third Mother and why will we only see her in six cities?
• A young writer who uploaded a video on YouTube is penning a screenplay called Rain in which he filmed a hallucination that will be part of the movie — if it gets made.
• The Sundance Channel is buying 22 films from Lionsgate, including the excellent horror comedy, Fido, where a zombie is the family servant.
• Our pal and MF columnist Scott Sigler's book Infected is the number 2 on Amazon's horror list. You can see the author as he waxes profound about the book during a short video, too.
• It looks like All The Boys Love Mandy Lane will finally see release in theaters this August. We'll finally get to see what Amber Heard does at that wild, tortuous party at a way-off-the-beaten-path retreat.
• All of Disney's future animated films will be in 3D and probably
Imax, too. That includes an adaptation of Philip K. Dick's fairly scary
King of the Elves, which includes one monstrous, evil, smelly troll.
• Does Frank Darabont's The Mist have the most depressing movie ending ever? Den of Geek thinks so.
Read More