Horror Surfer: Del Toro Talks Hobbit; Happy Birthday Baby Jane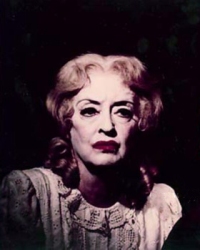 • When it comes to Blair Witch-style filming techniques, most movies run up against the law of diminishing returns. But the trailer for Paranormal Activity suggests there's still fresh blood in home-movie horror.
• Holidays can be a let-down, especially when knife-wielding maniacs are involved. Bloody-Disgusting rounds up dismal failures in holiday-themed horror, from ThanXgiving to New Year's Evil.
• Bette Davis — Baby Jane herself — would have turned 100 this weekend. Billy Loves Stu celebrates by defending her title as the original Scream Queen.
• While fans breathlessly await Guillermo Del Toro's Hellboy sequel, he's already talking hobbits with Hollywood Insider… Will he upset Peter Jackson's reign over all of nerd-dom?
• Lindsay Lohan takes her serial killers seriously. The starlet is set to begrime herself all over again as the lead in Manson Girls, produced by the same team that turned Charlize Theron into a Monster. Love her or hate her, you have to admit it's fun to see Lohan taking a part with more meat on its bones.
Read More