Hellboy 2 Trailer Hits the Web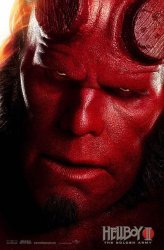 I gave up reading comic books long ago, but that doesn't
mean I don't enjoy an occasional comic book movie, especially one that involves
inter-dimensional monsters, psychic amphibians, pyrokinetic hotties, and Jeffrey
Tambor.
The trailer
for Hellboy
II: The Golden Army hit the web this week and it looks to maintain the
spirit of the first movie — which was surprisingly enjoyable for something that
looked to be a special-effects-laden, run-of-the-mill Hollywood McMovie.
Maybe it's not so surprising. Mike
Mignola's Hellboy comics were quite
well-received and gained a huge following.
Which is, of course, why Hollywood
came knocking. It blended the Nazi occult, quasi-human characters, and a
smack-talking red demon with superhuman abilities.
Hellboy works
as a Paranormal Investigator for the government funded Bureau for Paranormal
Research and Defense, but he is by no means a company demon. He's an interesting character in both comics
and film, in the latter case thanks to a great performance by Ron Perlman. And now there's a sequel.
Hellboy II: The Golden Army is said
to focus less on the real world and more on the mythical. Guillermo del Toro ( Pan's Labyrinth ) will ensure that the imaginative elements of the
setting remain. The good news is that
the mythical world still contains lots of cool-looking creatures. The bad news is that they're looking to come
to our world. Our big, red lug of a
demon-spawn will have something to say about that though. I'll be watching.
Read More