Hammer Not J.J. Abrams to Remake Swedish Vampire Movie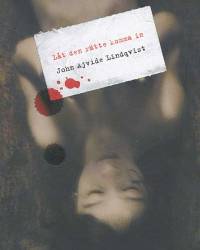 Just this morning, I wrote how the Swedish vampire movie, Let the Right One In, is charming everyone's socks off at the Tribeca Film Fest — as it has wherever it's screened (the trailer's scary even without English subtitles). While a limited US release would be ideal, it's practically a given that most Americans will encounter this film for the first time as a remake with a Hollywood cast. Bloody-Disgusting reported weeks ago that J.J. Abrams' team would be taking on that project; no matter how you feel about that, you're bound to be dismayed by B-D's fresh update: It's Hammer Films who has acquired Let the Right One In.
Hammer? Whose only recent credit is the web-serial Beyond the Rave, and whose production of actual feature films dwindled before I was even born? Unless this is part of Hammer's secret plan to re-invent itself as a happenin' new production company, or unless it plans to sell the rights for even more cash later, then we have to prepare for the worst. Relish the original Let the Right One In when it's released on DVD later this year, savor your memories of Hammer's heyday (this gallery of their foxy leading ladies will help), and rue the day the two ever crossed paths.
Read More