Games, Polls & Quizzes
Ultimate Fan Quiz: The Godfather Results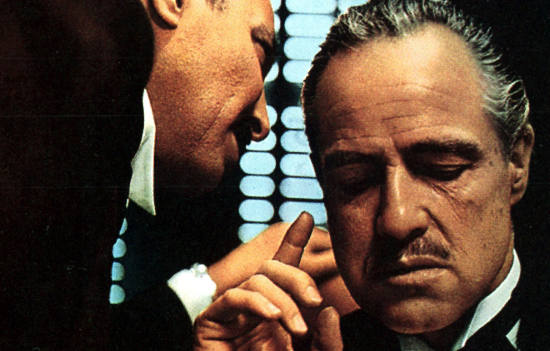 The Ultimate Godfather Fan: Kathy Carter (take_the_cannoli)
Hometown: High Point, North Carolina
Age: "Younger than Pacino, older than Garcia…or 54, if you want the real truth."
Profession: Professor of American History at High Point University
Even though Professor Kathy Carter saw the original Godfather in theaters, it wasn't until about twenty VHS rewindings later that she finally caught a glimpse of the infamous horse head in Woltz's bed. "I'd been warned about that scene," she says, "so I made sure I was out in the lobby getting a soda." For her, The Godfather is an imperative — "That solo trumpet opening the film is like the bell that made Pavlov's dogs salivate," she says. But like Clemenza's directive after assassinating Paulie in The Godfather, hers, she says, is to "Leave the gun. Take the cannoli."
Ultimate Godfather Fan Quiz Answers:
1. What boat carries young Vito to Ellis Island in The Godfather: Part II?
Moshulu
2. What fight is advertised at the fruit stand where Don Corleone does some shopping for produce in The Godfather?
Jake La Motta vs. Tommy Bell
3. When Michael appears before the Senate Committee in The Godfather: Part II, what does he say the term godfather represents?
Affection and Respect
4. In The Godfather, what two songs does the band play to welcome Michael to Las Vegas?
"For He's a Jolly Good Fellow" and "Mona Lisa"
5. In The Godfather, what does Sonny write after he gets a phone call from Sollozzo, and where does he write it?
"8:30" on a kitchen cabinet
6. Where do Michael and Kay do their Christmas shopping in The Godfather?
Best & Co.
7. In The Godfather: Part II, what does Frankie Pentageli have in his pocket when he chats with Tom Hagen?
3 Cigars
8. According to Sollozzo in The Godfather, what is "a big expense"?
Blood
9. Which actor said of the casting process for The Godfather, "Francis knew I could do the part and so did I, but he kept asking me to test again and again. I didn't want to go…I don't go where I'm not wanted."
Al Pacino
10. When the two Godfather films were first shown on network television, they were presented differently than they had been in theaters. How?
The two films were renamed The Godfather: A Novel for Television and re-edited so that the events are shown chronologically rather than in flashback
11. Which of The Godfather's Academy Award nominations was rescinded, and why?
Best score, since composer Nino Rota had already used the "Love Theme" in the 1958 film Fortunella
12. What epic film was The Godfather compared to by both Newsweek and Time?
13. What fruit is associated with death in The Godfather, and why? What recent television series paid homage to this, and how?
Oranges. Just before the assassination attempt on Vito Corleone's life, he buys oranges. The Sopranos paid homage to this in Season One: Just before the assassination attempt on Tony's life, he buys a bottle of orange juice.
14. One of the best-received commercials of Superbowl XLII parodied a scene from The Godfather. What was the scene, and what was the product advertised?
Jack Woltz finds a horse head in his bed, the Audi R8
15. A featured member of the cast of both Godfathers has been declared dead a number of times (as of this writing, he is alive). Who is he, and what publication made the first fatal error?
Abe Vigoda, People Weekly in 1982
Read More