EW Just Doesn't Get Swamp Thing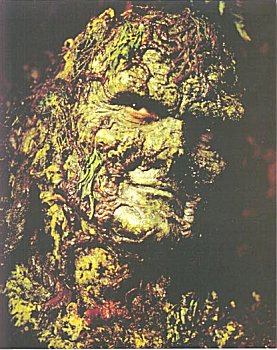 Entertainment Weekly published a ridiculous list called The 20 Worst Comic Book Movies Ever — and I know I'm taking the bait, but I have to disagree with their choices. For one thing, they left out some really awful movies: I'm thinking Nick Fury, starring David Hasselhoff. For another, I must defend Swamp Thing.
Tom Blunt gave Swamp Thing a nice shout-out, earlier this week, but I have to give it more love. When I was a kid I watched it all the time, not even knowing it was based on a comic book. When I was in college, I appreciated the depth and humanity of Swamp Thing; his loneliness really resonated with me. I once led an audience in a sing-a-long, where the Troggs' "Wild Thing" was replaced with lyrics about Swamp Thing. Today I appreciate the movie as a departure film for Wes Craven, much like 1999's overlooked Music of the Heart.
Finally, I'd like to run a correction of sorts. In a previous episode of The Sci Fi Department we listed some movies not on Netflix. The first one mentioned is Swamp Thing — and I'm happy to report that it's now included in the library. I will humbly chalk that up as a personal victory.
Read More