Doctor Who Versus the Metropolitan Police Authority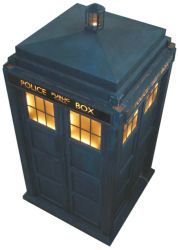 Doctor Who has defeated some of the most difficult
beings in all of time and space. But did
you know he went against the U.K.'s
Metropolitan Police Authority and almost lost?
The battle was not waged in space, or in the back alleyways of London, but rather in the courtroom. It seems that the BBC's attempt to register
the blue police telephone box — used on the show as the good Doctor's time
machine, which he calls the TARDIS — did not win any friends over at the Metropolitan
Police Authority. The organization regarded the police call box as universally
associated with (get this) the police.
The facts are these:
• In 1996, the BBC applied for a trademark to use the image of a police call box
on Doctor Who merchandising and
advertising. The trademark application shows three images of police call boxes. The Metropolitan Police Authority objected to this, citing that the police should
own the distinctive image of the police call box.
• In 2002, the objection by the Metropolitan Police was overruled by the patent
office because the boxes were no longer in use. (You can read a full
PDF report
here.) The BBC was very
happy.
• Footnote: In 1976, the BBC registered the trademark of a police call box
accompanied by the word TARDIS. The Metropolitan
Police Authority has no problem with this one, apparently, as it went
uncontested.
OK, sure, this was resolved back in 2002, but the TARDIS is a time travel
machine so, technically, it might not have even happened for Doctor Who yet.
The
Tardis and trade marks [Steve van Dulken's Patent blog]
Read More