Daily Scan: 04.21.08 – Guillermo Del Toro's Next Film; the History of Speed Racer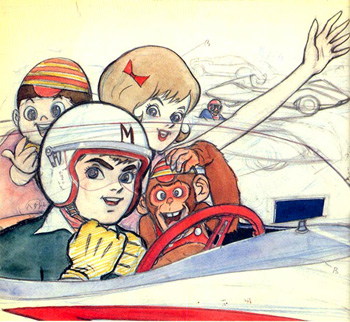 • Ronald D. Moore will be writing and directing a new sci-fi trilogy in an entirely original franchise for the ailing United Artists.
• Anthony Quinto and Leonard Nimoy talk Spock.
• Guillermo Del Toro talks about his next film, which is not The Hobbit: "It's like, what would happen if the Apocalypse was viewed by you [while] doing errands. You go back and forth and nothing big happens except the entire world is being sucked into a vortex of fire." Yeah, that would be something, I guess.
• Farscape gets a comic! Judging by the comic art, it looks like it might be set in the post-D'argo era. That's a shame: Everything after Season Three was a wildly, icy slalom downhill.
• A new Ender book by Orson Scott Card is coming. I dunno: they were all pretty disposable after the first, I thought.
• Is it time to remake Blade Runner? No. I should punch you in the mouth for even thinking that.
• The Star Wars live-action show will reveal the galaxy's greasy, seamy underbelly. Why does the universe's underbelly have a seam? Did it get an appendectomy? So curious.
• Sci-Fi Japan has a gorgeous post on the history of Speed Racer.
• io9 claims the new Starship Troopers 3 is going to be great. I'm positive they are out of their gourds, but can't prove it.
Read More