Daily Scan: 04.01.08 — April Fools Day Edition (Spot the Fake Story!)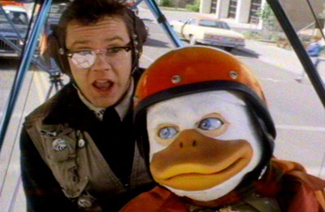 • io9 has a revealing interview with blogger and TV writer extraordinaire Jane Espenson (Firefly, Battlestar Galactica) where she delves into the Cylon backstory.
• No fan of Naked Lunch (or Peter Weller) should be without this stylish Mugwumps Bug Powder t-shirt.
• Inspired by the buzz on the upcoming Star Wars TV series, George Lucas has announced plans to develop pilots for both Howard the Duck and Radioland Murders.
• The Onion AV Club spotlights some fictional drugs, a large number from science-fiction. Kids, stay away from Star Trek's "synthehol," Dune's "melange," and especially the deadly "nuke" from Robocop 2.
• Who says sci-fi geeks aren't sociable? The Sci-Fi Dominion is
a brand new social networking site where fans of "speculative
fiction" can hide from all those bullies on MySpace and Facebook.
• And finally, despite weeks of Internet buzz, the Fanboys protest held
over the weekend at a multiplex in Los Angeles was so sparsely
attended that the 14 protestors actually gave up and paid to see 21. Still, one of the nice Fanboys filmmakers did take everyone out for pizza afterwards.
Read More