Could Soylent Green Become a Reality?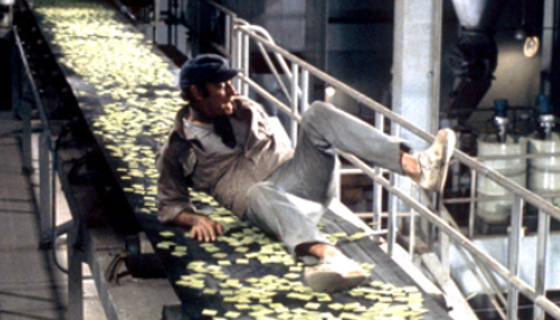 Soylent Green Become a Reality?" width="560″/>

The year is 2022. The world is polluted, dilapidated and over-populated: 40 million people live in New York City alone. Food supplies are nearly decimated, making everyday necessities like fruit, vegetables, and meat an expensive luxury. Instead, the world survives on government-sponsored euthanasia and mysterious green nutritional wafers provided by an enigmatic, omnipotent corporation. This dystopic future is, thankfully, only the backdrop for the 1973 Charlton Heston scifi classic Soylent Green. But how close is it to a reality?
The global community panicked this week about the shortage of rice in Asia. The problem? While production has remained constant at about 420 million tons a year for the past four years, the continent's population has increased by about 100 million. As a result, prices shot up 30% between 2005 and 2007 then 40% since the middle of last year. The effects of this are being felt here in the States too, where American rice futures are hitting record highs. Today, warehouse chains Sam's Club and Costco curtailed the amount of rice a single person can buy in bulk, a reaction to a nationwide hoarding epidemic.
What would Charlton Heston say? That sounds so familiar! Global warming and pollution combine with massive population increases which cause a food shortage while a corrupt government is spying on its citizens, et cetera, et cetera, et cetera. SciFi.com's Tamara Hladik once called Soylent Green
"a basic, cautionary tale of what could become of humanity physically
and spiritually if it doesn't nurture the planet that nurtures it." The way I see it, it's a parellel universe in celluloid just awaiting some baby cakes.
Read More