Cloverfield Made for TV, Says J.J. Abrams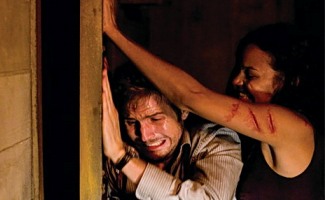 Perhaps the reason so many filmgoers came down with Cloverfield seasickness is that the film was meant to be seen on a much smaller screen. So says director J.J. Abrams, whose claim about the film, which purports to be a recovered video document, coincides neatly with its April 22 DVD release. "The movie is like a videotape. It lives on your TV. In many ways, it is supposed to be viewed on a (TV) monitor," Abrams said.
While it's not impossible that this is just a cynical approach to promote the Cloverfield DVD, I think Abrams is onto something here.
Having viewed the film on DVD just last night, I can personally testify
to how much easier it was to tolerate the lurches and wild swings of
the camera when they weren't being projected across an entire wall.
Also, let's not forget that Abrams is a TV guy. He may have a cinematic
flair for tension and special effects, but it's pretty easy to imagine
his mind framing Cloverfield like a television show instead of a movie.
From the running time (just over an hour) to the oft-complained about
human characters, nothing in the film seems designed for the big screen
except the monster itself. Those of you who caught it in theaters (and
weren't overwhelmed with vertigo) at least got that much out of it —
now the rest of the world gets to have their say from home.
Read More