On DVD This Week: Charlie Wilson's War, The Orphanage, and The Savages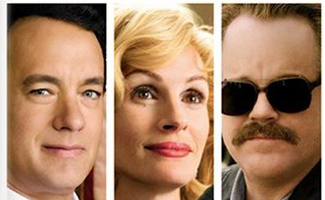 • Charlie Wilson's War should have been a no-brainer, with a cast including Tom Hanks, Phillip Seymour Hoffman and Julia Roberts, a script written by Aaron Sorkin, and direction by Mike Nichols. The true story of Charlie Wilson, who helped raise money for the Afghan Civil War (and may have single-handedly caused our current situation in the Middle East), the film is not as good as it could have been, but for fans of any of the above, it's worth a look.
• Guillermo Del Toro only produced The Orphanage ,
but his fingerprints are all over it. Lurking ghosts, a Spanish
setting, and dark secrets that should remain hidden are all hallmarks
of Del Toro's work. Directed by a novice with a steady hand, Juan
Antonio Bayona, The Orphanage should be considered a must-see.
• It's a big DVD week for Phillip Seymour Hoffman, who also stars in The Savages.
With Laura Linney, the film focuses on siblings dealing with their
father's increasing dementia. Tamara Jenkins direction contains well
observed nuances of human behavior, and never comes off feeling
precious.
• Cloverfield was the recipient of a rather large backlash
for it's hand-held, YouTube-style look. Now that the hype has died
down, give the J.J. Abrams produced monster movie a second look, and
perhaps you'll see that it takes an enormous degree of skill to
coordinate that much chaos.
Read More