How Charlie Sheen Turned Into a Wall Street Player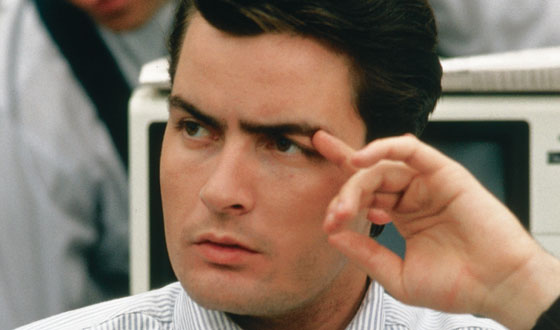 When Charlie Sheen took the role of 'Bud Fox' in Wall Street, the 22-year-old actor knew little about shares, futures and commodities. "I didn't really care about the stock market. I didn't think it had any effect on my life," said Sheen. To prepare the actor for his role, director Oliver Stone asked Wall Street consultant Ken Lipper to design a six-week "course" that would expose Sheen to a cross section of the young traders who worked in the business.
"I had a few weeks to go on this crash course," Sheen said, "and I had to learn what these guys did in four years of business school." Realizing the impossibility of that assignment, Sheen said he shot for a general working knowledge of the financial world, "so when I spewed numbers or threw facts around, at least I could lessen my insecurity."
Charlie Sheen even wound up doing some costly "method investing" — he sank $20,000 into the market. "It was a pretty good hunk of cash," he said. "I figured if I had something on the line, it would intensify my curiosity."
To prepare, Sheen spent a couple of days talking with David Brown, a
former Goldman Sachs trader who pleaded guilty to insider trading
charges in 1986. Sheen also worked alongside the employees of Salomon
Brothers and spent time with young brokers at after-work drinking
establishments in the South Street Seaport area.
One of the
brokers Sheen hung out with was a young hotshot named Liam Dalton.
Dalton had spent his high school days as a runner on the floor of the
NYSE, and joined the Bear, Stearns trading floor in 1983. Like all
novice money men, Dalton started as a retail broker — cold-calling
from the phone book, building a client base, and earning a reputation.
Only two years later, he made partner, a stunning achievement.
One
day, Dalton got a call from 20th Century-Fox, asking him to help out
with some technical matters on Wall Street. Soon Dalton was showing
Sheen around the trading room, helping him model his character. For
almost two months, Sheen spent three or four days a week at Dalton's
desk, watching him trade. When he left to start shooting Wall Street,
he borrowed Dalton's trademark red suspenders — which he never
returned.
Sheen discovered that a trader's lifestyle is
exhausting. "I was impressed and very, very respectful of the fact
that they could maintain that kind of aggressiveness and drive," said
Sheen. "I was also amazed at their dedication to the almighty dollar.
It's the essence of life with certain people."
For Sheen, the tension he started to feel when preparing for the role never let up. "It was a tough shoot, unlike Platoon,"
he admitted. "We were more physically exhausted in the Philippines than
we were in the concrete jungle, but if I'm physically tired, I can take
a nap and relax. If I'm mentally fatigued, it's tough to put the brain
to rest. It was exhausting."
Although the role was quite a
stretch for him, Charlie Sheen said he couldn't resist working with
Stone again, despite the fact that the director is a "perfectionist"
and notoriously hard to please. "I'd do Sesame Street if Oliver was
directing," Sheen said. "He's tough, but the most hated coaches of
our era have had the best track records."
Watch the DVD-enhanced version of Wall Street on May 4. For a complete schedule of this movie on AMC, click here.
To share you review of this movie, click here.
Sources:
Guy D. Garcia, "In the Trenches of Wall Street," Time, 7/20/87
Steven Rattner, "From Vietnam to Wall Street," New York Times, 8/30/87
Dave Hoekstra, "Teamwork Pays Off for Sheen," Chicago Sun-Times, 11/29/87
Richard Lormand, "Charlie Sheen Passes a Crash Course in Wall Street," Chicago Sun-Times, 12/23/87
Jim Jerome, "Travels With Charlie," Us, 1/25/88
Ron Insana, Trader's Tales, John Wiley & Sons, Inc., 1996
Read More