Photos
Charles Bronson, The Tough Guy With a Heart of Gold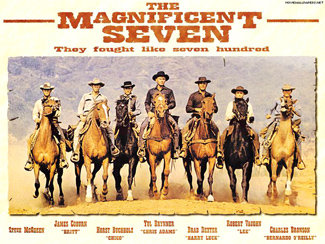 Solider. Detective. Vigilante. Cowboy. Pilot. Spy.
Over the course of his career, Charles Bronson sure played a lot of tough guys. But his special niche was the gunslinger with a heart of gold. In The Magnificent Seven, Bronson plays a half-Mexican, half-Irish outlaw who's part of a gang hired by a small Mexican village to fight the bandits terrorizing the town. While all of the guys in The Magnificent Seven display an exemplary Old West code of honor, it's Bronson who's the teddy bear. He befriends the town's children then takes a bullet while shielding them from danger. Aw.
And that's not the only movie in which Bronson's grizzled exterior gives way to the gentle soul within. In Death Hunt, he's a trapper who nurses an injured dog back to health. Double aw. Even for the notoriously violent Death Wish series, his character isn't a senseless murderer. He's a father and husband out to avenge crimes against his family. For the softer side of Bronson, tune in tonight for The Magnificent Seven: Saturday, April 5 at 8PM | 7C. (Click here for the movie's full schedule on AMC). For the tougher side of Bronson, take a look at our gallery spotlighting his more dastardly deeds.

Read More