Can Vin Diesel Come Out of the Pitch Black and Regain SciFi Stardom?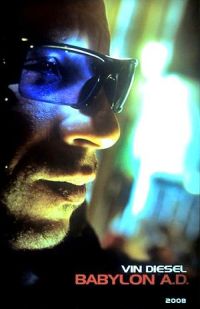 If nothing else, you've gotta admire Vin Diesel's persistence in pursuing high status as a sci-fi action hero. He weathered countless studio battles over the Pitch Black sequel The Chronicles of Riddick only to have it be a critical and box office disappointment. Now word is that Fox has chopped down his upcoming sci-fi epic Babylon AD from two hours and forty minutes to a mere hour and a half. We've heard about studios cutting twenty minutes from a film but 70? That's almost half of the running time. Babylon AD, which is directed by the stylish Mathieu Kassovitz and costars Michelle Yeoh, is now the exact same running time as Diesel's family hit The Pacifier. Even worse, it's being released during the dumping grounds of late August.
The fate of Babylon AD is a shame for a number of reasons. One, it might have finally been an American breakthrough for the French director who made La Haine. (And, uh, the bewildering Gothika.) Also, it's a cool cyberpunk story (based on a novel by Maurice G. Dantec) featuring Diesel in action mode with the always reliable Yeoh. This should've been a no-brainer, Fox. I guess we'll have to wait for the inevitable director's cut DVD or take a trip to Paris to catch the full-length European release to fully experience Kassovitz's vision. Memo to Diesel: Maybe sci-fi isn't your genre anymore. How about a nice buddy cop film with Martin Lawrence?
Read More