Mr. Magoo Meets Scooby Doo — The Bug-eyed Bumbling of Don Knotts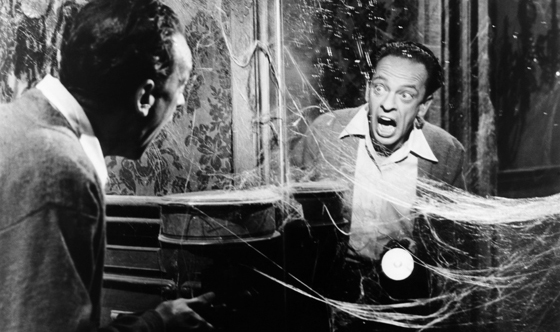 It all started with Barney Fife. Audiences loved the ineffectual, yet self-important deputy Don Knotts played on The Andy Griffith Show. Critics loved him too, and Knotts won several Emmys over the course of his five-year run with the show. When Knotts transitioned to movies, he became the man to call when the script demanded a bumbling hero; a guy who would eventually save the day, but in a roundabout way, punctuated by trembling trepidation.
Knotts' signature look — a cardigan sweater and bug eyes — make him the perfect scaredy-cat; he's practically a cartoon on screen. There's a strong resemblance between Knotts' characters and Mr. Magoo, the bespectacled hero of the cartoon of the same name who constantly foils villains despite his poor eyesight. Knotts' fumbling misperception of the world neatly twins Magoo's.
But the characters Knotts plays aren't actually blind — that would
make it impossible for him to spot the dangers of the world that so
frequently make him quiver. Call it his Scooby Doo side. In fact, an
animated version of Don Knotts, voiced by the man himself, once made a
guest appearance on the classic Hanna-Barbera cartoon, and he and
Scooby spent much of the episode cowering together, springing into
action only with the help of copious amounts of Scooby snacks.
The Ghost and Mr. Chicken
offers the perfect example of Knotts' mastery of his cartoony presence
on the screen. He plays a typesetter at the town paper who aspires to
be a full-fledged journalist. The paper's editor gives him a shot at a
byline, assigning Knotts to spend the night at the local haunted house.
Plenty of trembling, cowering, quivering and wild-eyed terror follows.
Check Don Knotts' signature scaredy-cat style when The Ghost And Mr. Chicken airs, Monday, April 14 @ 8PM | 7C. For a complete schedule, click here.
Read More