Artists Illustrate Jules Verne's Pre-Hollywood Voyages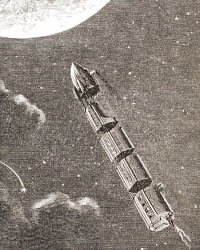 Hollywood has adapted Jules Verne so many times in the last century — original illustrations shows the sheer delight that artists in the late 1800s took in imagining a world of flying machines, space travel, and impossible voyages.
The visual style of these illustrations has often been adapted straight into films alongside the words that inspired them; drawings of Verne's rocketships, projectiles, contraptions had filmmakers in the early 1900s working hard to produce entertainments featuring technology that was still theoretical at the time. They fired the imagination of early inventors as well, so that space travel and the movies that depicted it grew up side by side. It's exciting to see that after 100 years, it's as hard now to imagine a world without Verne's works as it was back then to imagine a world full of them.
Read More