Aliens to Attack Hollywood in Battle: Los Angeles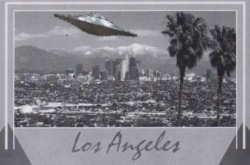 You've heard about the possible V remake. Here's one better: Columbia just picked up
an original spec script about aliens invading Los Angeles. Continuing the Snakes on A Plane
title trend, this new film is to be called simply Battle:
Los Angeles, in which a Marine
platoon will… battle aliens on the streets of Los Angeles.
The news from The Hollywood Reporter is that it's written by Chris Bertolini
( The General's Daughter ) and will be produced by Neal Moritz, the man behind
this weekend's box office horror hit, Prom Night. "I love the idea, and I
love the script. I like it all," he told the trade. "We are going to be in production within
six months." The "huge event movie," as the
producer called it, won't have a huge budget but, thankfully, it will have better camera
work than Cloverfield.
No word on the casting but you can easily imagine Samuel Jackson as a
Marine Sergeant saying, "Enough is enough. I've had it with the motherf—
aliens in this motherf— town!"
Read More