AFI Dallas Hits the Halfway Mark; Deal Announced for Disfigured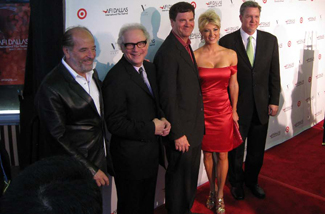 As AFI Dallas reaches the halfway mark, the first acquisition deal was announced: Cinema Libre Studios picked up worldwide rights to Glenn Gers' Disfigured, about an overweight woman who befriends a real estate agent recovering from anorexia.
Last night, native son Todd Wagner accepted his AFI Dallas Star Award at the Inwood Theatre, prior to the screening of What Just Happened? Wagner is one of the executive producers of the film, along with his partner Mark Cuban. Academy Award-winning director Barry Levinson, Robert De Niro and writer-producer Art Linson were in Dallas for the screening. De Niro plays a fading Hollywood producer trying to get his new picture made.
Fittingly, Linson, was talking shop last night. "It's hard to predict a movie's success from 'test' screenings," he said. "Some of my films that went on to great acclaim, Fight Club , and The Untouchables , for example, scored horribly with audiences and one third of the audience walked out. Only later when they opened, did they get the acclaim they deserved."
Playing opposite What Just Happened was audience favorite Nerdcore Rising. You can watch some of this pocket-protector rap on the film's website.
At the after party, the documentary's stars performed until they were
shut down by the Dallas police. Still, that didn't stop them from
taking to the streets and picking up outside in Victory Plaza. It's too
bad they weren't in town earlier when Public Enemy performed at the
Ghostbar. The MC's could have battled, conscious revolution style.
The other hot ticket for Thursday was Bruce McDonald's, The Tracey Fragments,
which screened in the Mavericks section. The film, which played at AFI
FEST in November, stars Oscar-nominated Ellen Page ( Juno ). McDonald
uses a non-traditional visual technique — split screen and frame
fragments — to tell the story of 15-year-old Tracey Berkowitz, a girl
in search of her brother.
"I think this will be a film with a lot
of polarized responses. Because it does take a risk," said Page when
the debuted at the Toronto Film Festival. "I think sometimes when films
take risks, people immediately call them pretentious… and I just
think that's bulls—. Because I know where Bruce's heart is, and I
know where my heart is, and I know why we made this movie."
This is one film not to miss once it transitions to theaters in May.
Shaz Bennett is the associate director of programming or AFI FEST.
(Photo: Art Linson, Barry Levinson, Todd Wagner and his wife, and AFI Dallas director, Michael Cain)
Read More