A Boy and His Robot: Fun Sci-Fi Finds on Hulu.com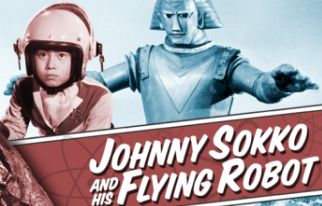 Although still in its infancy, the recently launched Hulu.com (NBC and Fox's full-force strike against YouTube) has been a boon to fans of retro sci-fi TV. Right now its a bit of dumping ground for NBC/Universal's back catalog (thus the Galacticas both classic and 1980 formula), but the lack of major network shows has meant a ton of obscure sci-fi finds. Here are just a few of the many gems:
• Johnny Sokko and His Flying Robot. If you're not clicking on this one based on the title alone, I don't know what to tell you. The American dub of the classic Japanese show Giant Robo, Johnny Sokko has it all — giant flying robots, a diabolical Illuminati-style organization, and did we mention giant flying robots?
• With its a compelling serialized story, strong voice-acting, and stylish anime-influenced design, Exosquad was a shining beacon in the sea of dreck that was TV animation during the '90s. (We're looking at you Problem Child: The Animated Series.) Drive up views for the 13 episode first season and put some pressure on Universal for a proper DVD release.
• Who would have thought that a horror series created by a former member of the Partridge Family
would end up being one of the best shows from the past decade? Though
it only lasted a single season, the cast featured the great Gary Cole ( Office Space ) and Lucas Black ( Sling Blade ) as one of the creepiest kids to ever appear on television. (Outside of that robot girl from Small Wonder, of course.)
• In the mood for classics? Sure, there's Lost in Space. But how about Irwin Allen's crazier and lesser-known The Time Tunnel or Land of the Giants? See them now in their original glory before Michael Bay comes along.
• And, finally, if you were burned by NBC's recent Knight Rider movie, just remember that it could've been worse.
Read More