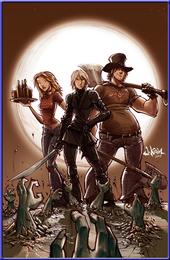 If you're a lover of zombie films and comic books, here's your chance to be immortalized as one of the undead. For a mere $10, you can buy a chance to be a zombie in The Undertakers: Road's End.
The fee helps fund the movie, the story of "two small town flunkies who stumble upon an organization that guards an age-old secret: sometimes the dead walk and sometimes they fight." A total of four winners will be chosen.
Who knows if the film will ever get off the ground? But everyone has 10 bucks, right? And everyone wants to be in a zombie movie. Not a bad idea, if it flies.
Read More