Why Do Kids Get to Dictate What's at the Theater?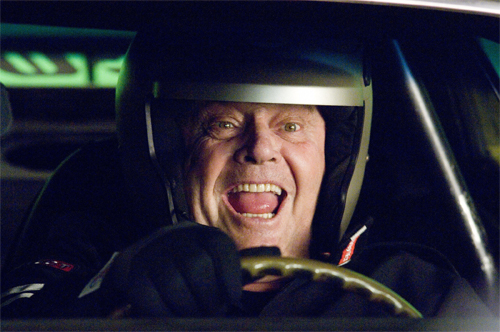 The cultural gap between parents and kids has grown so wide, the two virtually live in different societies. In the parents' society, says Shootout co-host Peter Bart, "the hottest touring group is the Police. The most surprising movie hit is The Bucket List. The Republican candidate for president is 71 years old… The hottest act at the Super Bowl was Tom Petty, who is in his mid 50s…"
The society of the parents also happens to be the fastest growing population segment; there are 78 million baby boomers (age 44 through 62). And they're the ones with the money. Those over 50 have an estimated spending power of $3.4 trillion.
So if there are more older folk and they're richer, why are movie studios and cultural marketers ignoring them in comparison to their kids?
"Of all the different quadrants that movie marketers track the most neglected is the graying quadrant… and they've got to pay attention," says Bart, who believe studios are missing out on a pot of gold.
Shootout co-host Peter Guber thinks the older movie audience exists but that it's not as golden as Bart believes.
"Studios recognize the audience is there," Guber says. "But getting them [to the theater] is a whole different matter…
He says that older audiences rely more on critics, which studios don't like to go through, and the value of older-skewing films is generally less in the submarkets, international, merchandising, sequels and music.
"It makes people financing films look at the other (audience) targets — right or wrong."
Bart agrees that older audiences, who wait for critical approval, are slower to see a movie than younger ones who pile into the theater on opening weekend. "But when they react the results are better," Bart says. Guber disagrees. The glory for older skewing films may be there in terms of Oscars because the Academy is older, but "the gold is in [younger appealing] films — those 17 films that were released last summer and did billions and billions and billions of dollars worldwide. The target of choice [for the studios] is that."
Bart believes the future will see marketers paying more attention to the older audience. "You are going to have more differentiated product…clearly identified audiences that are catered to in every market line. The marketing mania won't simply be devoted to the teens…in recognition of the fact that the kids and their parents and grandparents have absolutely nothing in common."
Are studios and marketers spending too much attention on kids and ignoring older audiences? Is this a mistake? Comment below.
Read More