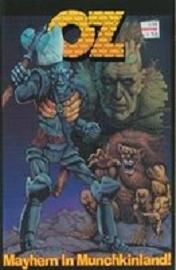 The comic book series, Dark Oz, has been optioned by Praz Michel of The Fugees (remember their hit CD, The Score, back in 1996?). Says Variety, "Storyline follows an older Dorothy Gale in a 'gothic and more macabre'
setting as she journeys through Oz with the characters known to
millions via Frank L. Baum's Wonderful World of Oz." Actually, Praz, now best known as an actor, has produced 10 films, including the upcoming horror/scifi movie, The Mutant Chronicles starring John Malkovich and Ron Perlman.
Michel is so pumped up about Dark Oz that he wants to make it a trilogy. It's easy to see why: Dark Oz is a fascinatingly eerie series that includes evil Munchkins, giant spiders and a nasty stick figure character called Jack Pumpkinhead. It's a deep take on the classic novels with a new-ish, more evil mythos that should work well in film.
Read More