When She Screams, Monsters Run: Performance Artist Jillian McDonald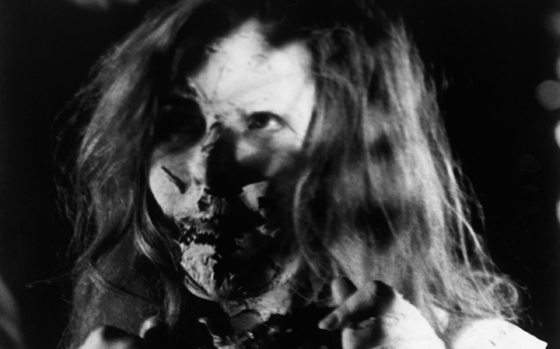 "I've always been sort of a thinker," says McDonald. To explain, she shares a childhood memory: Imagining her father's death at the tender age of three. If you think this morbid mind would have then fostered a love of horror films, you'd be wrong. "I couldn't even watch them," she admits. "I never related to them and I don't enjoy being scared." So, how is it she now takes pleasure in creating zombies, inserting herself into horror films, being chased through the woods and turning into a vampire?
A multimedia, performance artist, much of McDonald's work explores fan worship and movie madness (Me and Billy Bob, Screen Kiss) and through it, she's garnered a cult following of her own. In 2006, she found herself thinking, "Why is it people enjoy being afraid? And how is it there can be such a huge fan base for horror films?" She tried reading books on film theory, but quickly realized that was "ridiculous" and forced herself to watch the films. "I totally changed my perspective," says the new fan. What she thought would inspire one or two pieces has turned into a huge body of work that is still ongoing.
So, you swear you saw a woman turn into a zombie on the L Train to Brooklyn? It was McDonald. Plenty of ladies put on make-up while riding the subway, but her beauty ritual ends with fake blood and green teeth (watch horror make-up). This month in Chicago, while other commuters put on their game face, she turned herself into a monster. (Her gruesome beauty advice: "Make sure you look dead enough" but as with any kind of make-up "the thing is to look natural.") In one of her favorite pieces, The Screaming, she inserts herself into scenes from eleven films including The Shining and Alien. When a woman screams in a horror film, her end is near, but when McDonald' screams, it's the monsters that are killed or run away.
Jillian McDonald's Top Ten:
10. Stacy
9. The Host
8. The Ring and Ringu
7. Poltergeist
6. The Birds
5. Carrie
4. Zombi 2
3. Jaws
2. The Shining
1. Night of the Living Dead

"Rotting
corpses with no purpose beyond consuming the living are my personal
worst nightmare," she says of her number one film choice. "It's not a
pretty picture. Within most cultures, there is this aestheticized
feeling about death and what happens to the body but we all know it's
not true. We all know we rot."
If you're also into the walking dead, check out our Zombie Cage Match.
Read More