Warner Bros. Adapting Frank Miller's Ronin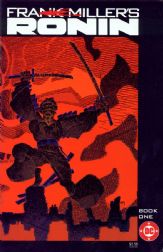 Say what you want about Frank Miller, but whatever he does, he does with style. One of his finest moments was his Ronin comic book miniseries, in which a samurai is placed in a chaotic, industrial Manhattan. There are cannibals in the city's sewers, mutants skulking through the streets above and robots are disguised as demons. Nothing is quite what it seems: Humans in this world can become half men and half machine.
Now, according to The Hollywood Reporter, Ronin will be a Warner Bros. movie with Sylvain White (I'll Always Know What You Did Last Summer) directing and Joby Harold (Awake) scripting. Yet it would have been great to have seen Miller himself direct the movie. Even better? Back in 1998, director Darren Aronofsky was attached to the project. The filmmaker behind Requiem for a Dream and The Fountain would really have rocked Ronin, making it the kind of deeper movie for which fans of the comic yearn.
Read More