Walk the Proud Land: Ethnic Casting, Fifties Style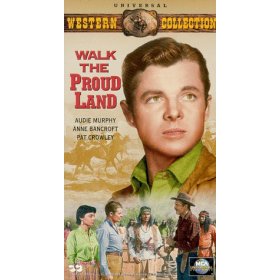 Despite its liberal voting record, Hollywood isn't known for its celebration of diversity. Whether it's unrealistic standards of beauty (botox and bottle blonde), or the lack of roles for women over 40 and actors of color, what we see on the big screen doesn't always reflect the way America actually looks.
That said, we've come a long way since the fifties and sixties. Remember those white actors, dancing around in orange pancake make-up so they'd look Hispanic in Breakfast at Tiffany's ), and the few minority actors available were typecast in bit parts with titles like "Mexican number three" or simply, "Indian."
Although it is a surprisingly sensitive and nuanced account (by '50s standards) of the conflict between the United States government and Native Americans during the later half of the last century, Walk the Proud Land employed those bad casting strategies.
Anne Bancroft — yes, Mrs. Robinson
— plays an Apache woman and Jay Silverheels, better known as the Lone
Ranger's sidekick, Tonto, takes his third turn playing Geronimo.
Silverheels was actually a full-blooded Mohawk Indian, and although he
gained some fame playing Tonto, the majority of his roles were of the
"Indian in town" variety.
Walk is the mostly true story of John Phillip Clum, an
Indian agent sent to Arizona from Washington to try to make peace
between the Army, settlers and Apaches living there. At the time, the
U.S. was still operating with Jacksonian methods of dealing with Native
Americans: Simply killing them or making it nearly impossible for them
to survive. In this environment, Clum was a sort of renaissance man,
determined to find a way for everyone to get along without
further bloodshed.
Check out a young Anne Bancroft when Walk the Proud Land plays Saturday, March 29 at 10:45AM | 9:45C. For a full schedule, click here.
Read More