V: The Second Generation Tears Face Off, Unmasks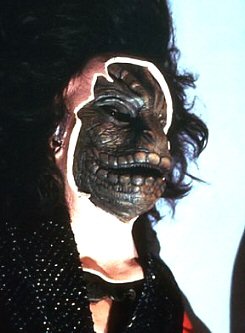 I think I speak for all of us when I admit to a philosophical sympathy with Mr. David Icke: I, too, believe that our world leaders have been replaced by an evil race of reptilian extraterrestrials. Reptoids, dinosauroids, lizardfolk, Republicans… whatever you want to call them, there's no doubt in my mind that they are silently accruing power with the slither of a bifurcated tongue, waiting for the moment when they can tear off their plasticky human faces and reveal the unholy visage beneath.
Why am I so convinced? Dude, I saw Kenneth Johnson's V as a kid, the NBC miniseries detailing just such an alien invasion. Did anyone walk away from that thinking face-ripping reptilians weren't walking among us? Raise your hand and I will call you a liar, sir.
And now Johnson himself is saying that a V sequel may well be in the cards, that major Hollywood studios are "interested." It would be based on Johnson's novel, V: The Second Generation
from Tor Books, which picks up the story 20 years later, after the
Visitors have drained the Earth's oceans and subjugated its residents.
More apt than ever, am I right?
Johnson Pitches New V Movie [SciFi Wire]
Read More