Games, Polls & Quizzes
Ultimate Fan Quiz: The Godfather and The Godfather Part II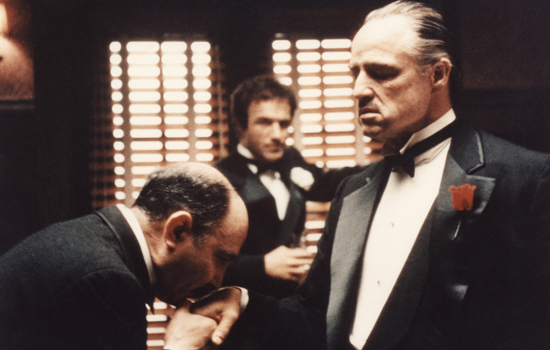 Think you know The Godfather and The Godfather: Part II? Prove it. Give us some answers we can't refuse. The first person to post all fifteen correct answers in the comments section will win The Godfather Legacy: The Untold Story of the Making of the Classic Godfather Trilogy DVD. (If two people post all the right answers at the same time, there will be a tie-breaker question from Part III.) In addition, the winner will be profiled and crowned the Ultimate Godfather Fan in an upcoming blog entry.
The quiz will run from Saturday 3/29 to Saturday 4/5 midnight, and a winner will be announced a few days after.
Make sure we have your correct name and email so we can contact you to deliver your prize.
So here we go:
1. What boat carries young Vito to Ellis Island in The Godfather: Part II?
2. What fight is advertised at the fruit stand where Don Corleone does some shopping for produce in The Godfather?
3. When Michael appears before the Senate Committee in The Godfather: Part II, what does he say the term godfather represents?
4. In The
Godfather, what two songs does the band play to welcome Michael to Las
Vegas?
5. In The
Godfather, what does Sonny write after he gets a phone call from Sollozzo,
and where does he write it?
6. Where do
Michael and Kay do their Christmas shopping in The Godfather?
7. In The
Godfather: Part II, what does Frankie Pentageli have in his pocket when he
chats with Tom Hagen?
8. According to
Sollozzo in The Godfather, what is "a big expense"?
9. Which actor
said of the casting process for The Godfather, "Francis knew I
could do the part and so did I, but he kept asking me to test again and
again. I didn't want to go…I don't go where I'm not wanted."
10. When the two Godfather
films were first shown on network television, they were presented differently than
they had been in theaters. How?
11. Which of The
Godfather's Academy Award nominations was rescinded, and why?
12. What epic film was
The Godfather compared to by both Newsweek and Time?
13. What fruit is
associated with death in The Godfather, and why? What recent
television series paid homage to this, and how?
14. One of the
best-received commercials of Superbowl XLII parodied a scene from The
Godfather. What was the scene, and what was the product
advertised?
15. A featured
member of the cast of both Godfathers has been declared dead a number of
times (as of this writing, he is alive). Who is he, and what publication
made the first fatal error?
Update: A winner has been selected and crowned. Click here to see the answers to the quiz and the profile of the Ultimate Godfather Fan.
Read More