Troubled by a Dark Past? Head West: Jimmy Stewart in Bend of the River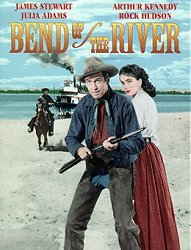 Black hats and white hats. Over the years Westerns as a genre have been distilled down to a good guys versus bad guys morality play in the popular imagination. Although a few cowboy movies can be summed up that simply, most Westerns actually tease out subtle themes dealing with free will, authority, alienation and autonomy. And the good guy with a troubled past is often the character who embodies a film's central moral dilemma.
Although Jimmy Stewart is best remembered for roles as nice guys and idealists ( Mr. Smith Goes to Washington , It's a Wonderful Life), he made five movies with Western director Anthony Mann in the early 1950s, and in each he played a good guy — with a history.
Bend of the River finds Stewart in post-Civil War Oregon, helping settlers fend off Indian
attacks and falling for hot pioneer women. But Stewart's character,
Glyn McLyntock, learns how to handle himself in the wilderness during
his outlaw days. The wilds of Oregon allow Stewart to remake himself,
and according to Bend, a man can be good, even if he has a
shady past. The question is: Now that Oregon has been settled, the rivers
dammed and with Portland a thriving metropolis, where do we head to remake ourselves? Where is the new West?
Watch Bend of the River on Saturday, March 15 at 3PM | 2C and check out Jimmy Stewart's six-shooter skills. For a complete schedule, click here.
Read More